While searching through YouTube and filtering through the masses upon masses of football highlights that users have uploaded, you often come across a moment, a goal or a match which reminds you why you watch and love the beautiful game.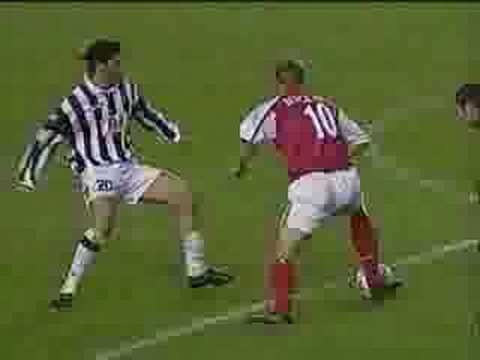 This clip, titled 'crazy Bergkamp skill' is a moment of pure genius, and demonstrates the natural talent that Dennis Bergkamp possessed.
It was Arsenal against Juventus in a Champions League group stage match, during the 2001/02 season. Arsenal ran out the victors 3-1 at Highbury, with goals from Henry, and a brace from Ljungberg. A Stuart Taylor own goal proved only a consolation for the Italian giants.
But it was the second goal from Ljungberg, so beautifully provided by Bergkamp, which really epitomised the genius and flair that the Dutchman gave to the Gunners during his illustrious tenure there.
The touch and close control kept the Juventus defenders guessing; the delicately chipped through ball with the outside of the boot fed Lungberg's burst into the box with precision; and the finish from the Swede wasn't bad either, chipping the goalkeeper, and restoring Arsenal's two goal advantage.
Bergkamp possessed a beautiful touch, and was an intelligent footballer during his playing days.
He played 553 games in a 20-year career, scoring 201 goals. After 11 years at Arsenal, it was quite apt that the first game at the new Emirates stadium was the Dutchman's testimonial, a fitting tribute for a true football genius.