Sergio Aguero completed his £38million move to Manchester City from Atletico Madrid and joins a host of other top names littering the Eastlands roster.
Having already established himself as one of Europe's highest rated players and a seasoned international with the Argentinian national side, much will be expected from Diego Maradona's son-in-law as Roberto Mancini breaks the bank (yet again) in his aim to launch City to domestic and European success.
With the ink barely dry on a fresh five-year contract and proudly hoisting the vacant number 16 shirt, 'Kun Aguero' looks ready to roll.
So in light of the summer's biggest transfer, In The Stands examines exactly what the Premier League can expect from the 23-year-old.
1. Improvisation, Skill and Flair
It goes without saying that Sergio Aguero is a very skillful player. After all, he is Argentinian! When the admittedly short forward broke onto the scene with boyhood club Independiente, his improvisation, his flair, as well as his bundles of skill stood out in abundance.
With Aguero, City have a player who can pull off the incredible, which as shown below, can, not only give Roberto Mancini's men the edge, but may also serve as a pulling power for dreary-eyed fans desperate for the often dry football besetting the City of Manchester Stadium to be illuminated Barca-style!
2. Big Goals Against Big Teams
'Kun Aguero' scores goals – that's evident, but more impressively he scores big goals against big teams.
Don't believe us? Ask Barcelona, Chelsea (Aguero scored twice against Carlo Ancelotti's side in 2009) and Inter Milan who Aguero helped to kill as Atletico battered the European champions in last season's Super Cup.
The Quilmes-born star also netted twice for Argentina as they toppled Brazil in the 2008 Olympic Games semi-final clash.
The Barcelona fact is however significant. Atletico Madrid are well known to be Pep Guardiola's men's biggest bogey team and Aguero has much to do with that.
With Aguero powering the attack alongside Diego Forlan, Atletico Madrid became the only side to put four past La Blaugrana as they overcame Pep's treble-winning team in an unforgettable 4-3 thriller.
They then denied the European champions the chance to go through the season unbeaten by repeating the feat one year later in a 2-1 win at the Vicente Calderon.
There was also the outstanding performance against Frank Rijkaard's men in March 2008 when Aguero's two goals saw the hosts turn around a 1-0 deficit to win 4-2 in a sensational individual display.
So as long as the new £38million man is on the pitch when City face-off against Barcelona in next season's UEFA Champions League final, the safe bet is with the FA Cup holders!
Catch Aguero destroying Barca below: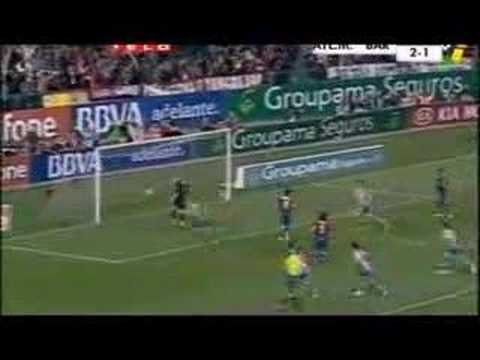 3. Goals, Lots of Goals!
The facts speak for themselves. In just his second season with Atleti, 'Kun Aguero' netted 27 times in all competitions and followed that up the following season by blasting in 21 goals.
Last time out, Aguero scored 27 goals and overall has ploughed in 74 goals in 175 outings for his former club.
Here are some of his stand out goals evidently showcasing just what City fans can expect from their new superstar. Watch specifically for his superb hat-trick away to Real Mallorca.