In The Stands sticks two fingers up at the official Euro 2012 draw and plays God to create our very own 'dream draw' throwing up some potential blockbusters!


Let's face it, the long-winded ceremony-come-draw for Euro 2012 on Friday evening will be a bore. That is of course until the balls start being drawn out one-by-one.
With the way the seeding and the draw works there is a real possibility of some amazing group matches emerging as well as some equally enthralling 'grudge' matches taking place should luck play its hand and the 'right' teams are drawn against the 'right' opposition.
The full seeding list is as follows:
Pot 1: Poland, Ukraine, Spain, Netherlands
Pot 2: Germany, Italy, England, Russia
Pot 3: Croatia, Greece, Portugal, Sweden
Pot 4: Denmark, France, Czech Republic, Republic of Ireland
So straight away it becomes apparent just what will make for some stellar group lineups with the possibility of one, if not two 'Groups of Death's' emerging.
Playing a hand with fate, here are a few of our dream draws and predictions:
The Group of Death 1
Spain, Germany, Portugal, France
Imagine a group consisting of holders Spain, World Cup runners-up Germany, Euro 2004 runners-up Portugal and two-time winners France!
Not only have all four sides played each other extensively in recent years, but they all in some capacity, harbour some unsavoury history amongst themselves.
Who can forget German goalkeeper Harold Schumacher's horrific assault on Battiston in World Cup 1982, or France's controversial 2-1 win over Portugal in that epic Euro 2000 semi-final clash.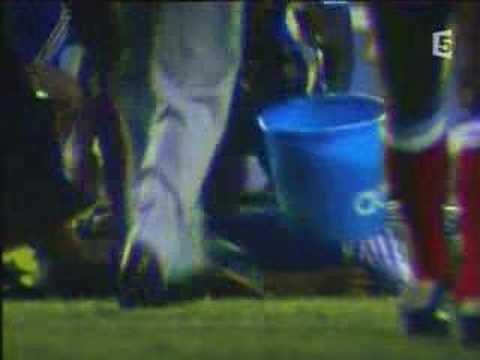 On the other hand, an Iberian derby between Spain and Portugal is sure to wet the appetite as will a Spain v Germany rematch.
The Group of Death 2
The Netherlands, England, Portugal, France
Of course, in terms of name, this group cannot be any tougher. What will be of particular interest will be the grudge matches between The Netherlands and Portugal (remember World Cup 2006) and England vs France (remember Euro 2004).
Such a group is too finely balanced to accurately predict and Fabio Capello's men will not be too keen on being drawn in this 'Group of Death' against teams who – on paper – have their number.
A Very Eastern-European Group
Poland, Russia, Croatia and Czech Republic
The aforementioned Eastern European and former Communist bloc countries will relish such a group which harbours economic, social and political significance.
Passionate fans of all four countries will be delighted at being drawn against each other and although matches on the field will be open affairs, battles taking place elsewhere, i.e. in the stands and amingst the crowd, could get ugly!
An Easy Group For England
Poland, England, Sweden, Czech Republic
Fabio Capello's men will be delighted at such a draw against three teams they know for certain they will be expected to beat.
The only issue here will be whether or not the Three Lions can keep their nerve and ensure they top the group.
A Group Not To Be Underestimated
Ukraine, Italy, Greece, Denmark
The way the three latter teams played during the qualifiers will mean that they ought to be taken seriously come next summer.
Denmark bettered Portugal, Greece comfortably overcame Slaven Bilic's neatly assembled Croatia side, whilst Italy were impressive throughout and even beat Spain 3-1 in a friendly.
Elsewhere, Ukraine on home soil will rove to be tough opposition axiomatically seen by their highly impressive 3-3 draw with Germany in October's friendly.