It is almost impossible to preview the upcoming World Cup qualifier between England and San Marino this week without reminding ourselves of that San Marino goal that inflicted a final ignominy on Graham Taylor when he was the England manager that ended England's hopes of qualifying for the 1994 World Cup.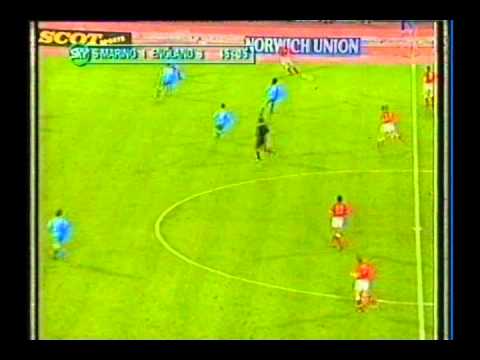 The goal in question was scored by Davide Gualtieri and came just 8.3 seconds into the match after full back, Stuart Pearce, under hit his back pass to David Seaman and Gualtieri was on hand to pounce and give the International minnows a shocking lead and only the team's second in 10 qualifying games. The goal remains the fastest ever scored in an International match and serves as a reminder to all managers, particularly Taylor, that when the luck is against you, it stays that way. Taylor of course was to resign from the England following that game.
Englandwent on to win the match by 7-1 and will be expecting to achieve a similar tally again this week, although conceding a goal to them is simply out of the question.Englandfans certainly will be expecting a goal fest and know that a ruthless attitude is the order for Roy Hodgson's men.
At the end of the day, San Marino is a side that currently sits in joint last (207th) place in the FIFA Ranking list and have only ever won one international match from 114 played and that came in a 2-1 win over fellow 'minnows' Liechtenstein in 1990 and are 150/1 to make it win number two at Wembley on Friday night. Surely, you think that 150,000/1 would be more apt? However, this isEnglanddon't forget, so the bookies are right to air on the side of caution!
It is easy to understand why England manager, Roy Hodgson, will be calling on his team to score as many as possible as come this time next year when qualification for the 2014 World Cup is concluding, goal difference could prove crucial in determining the outcome of Group H. Hodgson will have noted that Holland scored an 11-0 victory over San Marino in the Euro 2012 Qualifiers and should be hoped that he will have his team aiming for a similar double figure outcome. It should also be pointed out that in the same Euro 2012 qualification group, both Finland and Hungary scored 8-0 victories over them in their home legs whilst Sweden defeated them 6-0 at home and 5-0 away.
The Goal Scoring markets will hold the most interest for any England fan looking to have a bet on the game and they will be all too aware that despite the one-sided nature of the match, money can still be earned. An 11-0 victory is rated as a  33/1 chance whilst 10-0 is 25/1. The favourite scoreline in the market is 5-0 England win which can be backed at odds of 5/1.
Given the standard of opposition, anything under the five goal benchmark would have to be considered unacceptable. The England team is never far away from criticism and putting San Marino to the sword would be a good way of illustrating that under Roy Hodgson's regime, England are capable of silencing their critics.
With Rio Ferdinand and John Terry now out of the squad and the problems that came with them hopefully forgotten, England should be looking to use this game a springboard and an overdue confidence boost for the remainder of the qualifying campaign.