One word: Impressive. As the saying goes, you do not get a second chance to make a first impression, and as this one goes by, it was impressive stuff.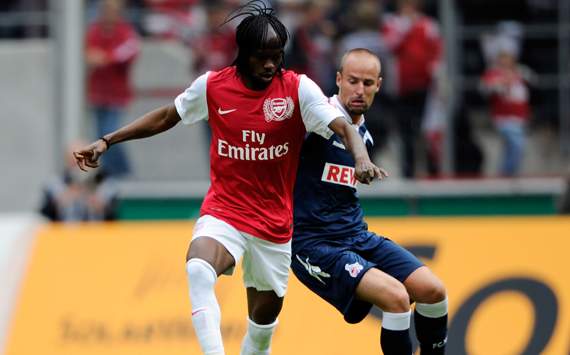 The £10million signing from French champions Lille was the star of the show as the Gunners overcame FC Cologne 2-0 in a pre-season friendly.
Despite sporting that ridiculously bad hairstyle, the 24-year-old looked particularly neat in possession, strong on the ball, lively and most importantly hungry. Indeed, Gervinho is already showing signs of being this summer's biggest coup.
Two goals which rounded off two superb team-work will leave Arsenal fans once again drooling at the prospect of another one of those Wenger buys – you know the type; relatively unknown, usually athletic and physical, raw but pacey, and with a bit of nurturing, a potential star.
Just think Nicolas Anelka, Kolo Toure, Thierry Henry, Lauren and Patrick Vieira for an idea as to how a player's development at the Emirates Stadium can be exponentially boosted under the tutelage of Arsene Wenger.
Of course, one match does not maketh a man, nevertheless, the premier signs look good. As ever, the goal remains clear; end the trophy drought, and knowing Robin Van Persie's dire injury record, Gervinho can be just the man who could fill that void and step up to the plate in a make-or-break season for Wenger's men.
Speaking of the big Ivorian, Arsenal winger Theo Walcott was quick to heap praise on a man tipped to be the new face to the Gunners frontline.
Gervinho is a breath of fresh air I think," Walcott told the official Arsenal website. "He looks a great talent.
"You can tell he can bring goals, he has got plenty of pace about him and he is very comfortable on the ball. I am looking forward to playing with him.
"You don't want to put too much pressure on him but I am sure he can deal with that," he added.
Catch Gervinho in action against FC Cologne. His performance has got Gooners everywhere salivating.